Free eBook and Newsletter
FREE EBOOK
Making Great Compost
to Grow Great Vegetables
The world's best gardeners know that great compost is one of the premier secrets to growing vibrant, healthy, nutrient-rich vegetables that burst with flavor.
Flavor unlike anything you can buy at the supermarket.

And it's not because compost feeds the plants, but because it feeds the soil ecosystem. which in turn feeds the plants a more complete and balanced diet than any combination of fertilizers can. And making compost is both easy and fun, once you know how.

So join our tribe now by subscribing to Under the Arbor, our monthly newsletter, and you'll receive your free copy of the ebook Making Great Compost.
Why Subscribe and Join Our Tribe?
Because we care for the soil, grow food that nourishes, and love the whole web of life. We explore something new every month and share our experiences, and have a bit of fun along the way!


In Making Great Compost you'll learn:
the four ingredients that must be balanced to make compost quickly and without smell
the differences between hot and cold composting (it's not just temperature)

the best compost bin for your needs
why homemade compost is better than store-bought, and
why a worm bin is not the same as a compost bin (but a great addition!)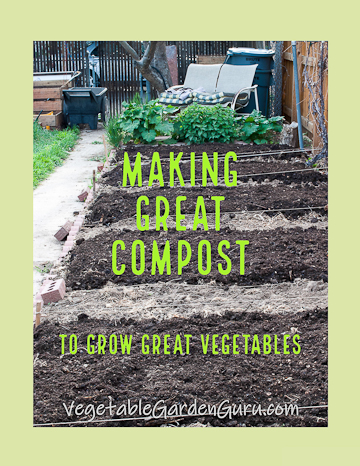 Great compost has many other benefits:
Think of all the reasons to grow a vegetable garden...

Spending quality time outside. Having ready access to super-fresh veggies that actually taste like something! Helping your kids connect to nature... and probably a bunch of other things.

Well great compost makes all those benefits possible, and once you know how to do it the right way, its super fun!

Download your free copy now, and you'll also receive my free monthly newsletter, "Under the Arbor".

Under the Arbor is stuffed with useful and fun content that keeps you informed and up-to-date about growing food that nourishes, regenerating healthy soil, and well...  just generally lovin' on nature. Come hang out Under the Arbor with us!


Every issue of Under the Arbor has a place for you to ask questions, which I'll do my best to answer in the following issue. But of course, you can always use the Contact Me form to ask your questions too.
Rest assured that I will NEVER use your email for any purpose other than sending you Making Great Compost and the monthly newsletter Under the Arbor. There is also an unsubscribe link in every issue if you don't find them helpful. I always love to hear what the tribe likes or dislikes about the newsletter so I can better serve you all. Let me know through the contact link.
Thanks for hanging out with us, caring for the soil, growing food that nourishes, and loving the whole web of life...
See you under the arbor!

---
---
---
---