Vegetable Gardening
From Beginner to Master Gardener...  and Beyond
Welcome! Whether you're new to vegetable gardening or have been slurping homegrown tomatoes for years, you'll find guidance and solutions here.
Vegetable gardening is a fulfilling, fun, and empowering pastime - especially so in these challenging times!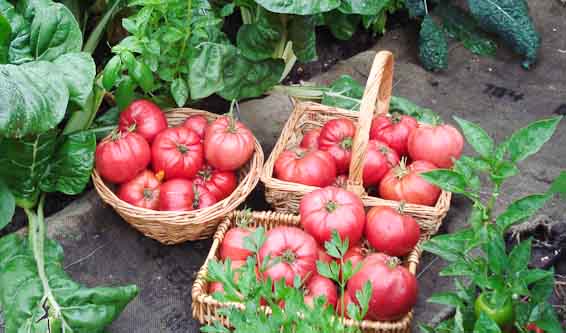 A Few of Vegetable Gardening's Many Rewards...
Many people are starting a vegetable garden for the first time, while others are returning to their gardens with renewed passion. Either way, I'm so happy you're here, because I love sharing what I've learned over the past 35 years about growing vegetables - sustainably, organically and in rich soil - with other people.
From planning and layout, all the way through to harvest and beyond, I'm here to point you in the right direction and answer your questions.
You're in the right place if you:
want to grow a garden but aren't quite sure where to start (and maybe feel a bit overwhelmed…)
would love to upgrade the nutrition and quality of your food
are working toward greater self-reliance

and

sustainability
want to garden in harmony with nature's intelligence

just LOVE tomatoes!
can imagine winding down in your garden

after a stressful day

need a solution to a problem in your current vegetable garden
feel supported by knowing you have an experienced guide here to answer your vegetable gardening questions

 just wanna get your hands in the dirt! (I can relate...)
I know what it's like to get the itch to start a vegetable garden, look out at a baked-hard yard of weeds, and sigh.

That was me back in 1985. With determination, a sprinkler and a really good spading fork I somehow managed to create my first vegetable garden in that rock-hard "soil".

And from then on I was hooked, so I majored in botany in college, read tons of books, tried out a bazillion methods and experimented like crazy.
Over time I slowly learned what works and what doesn't - but most importantly, I learned why.

So I started this website to share what I've learned with you. I wish I'd had an experienced mentor to lead me down a straighter path to the healthy, overflowing garden that now blesses me.
Whatever brought you here, my number one goal is to provide the answer or solution that will help you grow the garden of your dreams.


Along the way I'm also going to share with you a big secret - my number one rule for a successful garden (sshhh… it's a secret!):

Of course it's never been a secret, but now that your ears are perked up ...
Whichever vegetable gardening method you choose - raised beds, in-the-ground, or any other method - to grow healthy vegetables that resist pests, burst with flavor, and contain deep nutrition you must build really healthy soil.
And vegetable gardens with truly healthy soil are now a very rare thing indeed.

But we'll save that for later. First let's help you find what you came looking for, so you can get your hands in the dirt...


Here's a tour of a few of the things you can find here, to help you learn your way around. You can scroll through the sampling below, or go to the Site Map/Index and jump straight to what you want.

Here are quick-jump links to a few major topics explored lower on the page:

These pages will help beginners get started on the right foot and avoid the most common mistakes:

---
---
How to plan your vegetable garden layout, whether in the ground, raised beds, or containers: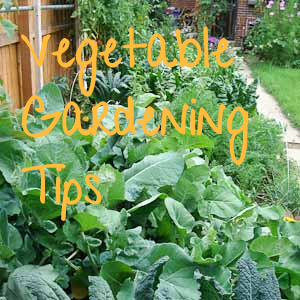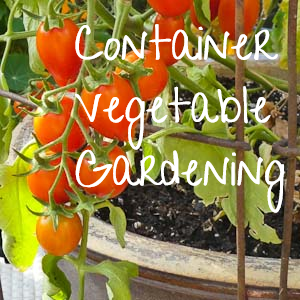 ---
---
How to design, build, and fill a raised bed garden for durability and maximum soil health:

| | | |
| --- | --- | --- |
| Photo gallery of nine different raised bed ideas, including wood, cinder block, metal corners, and more. | Construction guidelines to assure strong corners, durability over time, and happy plants. | Healthy soil is critical for both plant health and human health. Learn what to buy, or use this recipe. |
---
---
How to make compost to keep your plants happy and boost your microbial partners, as well as some awesome free bin plans:

---
---
How to get a jump on the season and save money by starting your own seeds indoors. (Plus chase off the winter blues!):

Good trays are hard to find! What to look for (and avoid) for best root development.

Seed
Starting
Trays
---
---
Links for all the "How to Grow" articles from Artichokes to Zucchini, plus quick links to the top two favorites: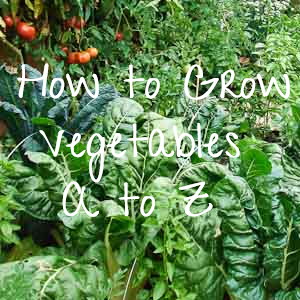 ---
---
What to do when challenges arise. How to use non-toxic means to restore balance and health to the garden ecosystem:

---
---
And last but not least a sampling of some random misfits... (me included):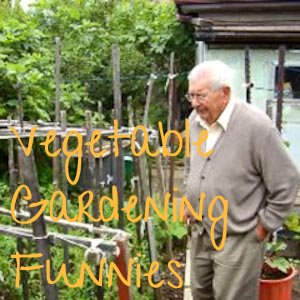 Everybody can use a chuckle once in awhile. Here are a few I found scattered about.

Vegetable
Garden
Funnies

Dedication
This website is dedicated to the renewal of sustainable, regenerative, organic vegetable gardening around the world. May we become gardeners of healthful, nutrient-dense food, careful stewards of soil, and may the plants we tend remind us to keep growing toward the Light.
Return to top of Home Page

---
---
Help share the skills and spread the joy
of organic, nutrient-dense vegetable gardening, and please...
~  Like us on Facebook  ~
Thank you...  and have fun in your garden!

Affiliate Disclaimer
This website contains affiliate links to a few quality products I can genuinely recommend. I am here to serve you, not to sell you, and I do not write reviews for income or recommend anything I would not use myself. If you make a purchase using an affiliate link here, I may earn a commission but this will not  affect your price. My participation in these programs allows me to earn money that helps support this site. If you have comments, questions or concerns about the affiliate or advertising programs, please Contact Me.Contact Us Page
---
---