Best Gifts for Gardeners

To me, the best gifts for gardeners are things that are practical, well-made, and bring delight. Nothing fits the bill better than a well-made, really useful tool! (Unless it's something that helps the wild pollinators...)

This thoughtfully-curated collection contains some of my favorite tools, bee houses, pollinator-friendly seeds, indoor seed-starting racks and other gardener's delights.
Best Gifts for Gardeners $5-$50.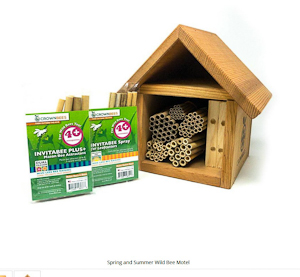 I have two of these: one for mason bees and one for leafcutters. A beautiful addition. Combine with a Pollinator Seed Collection for a truly unique gift!

This collection of annual and perennial seeds is not only gorgeous, it attracts a variety of wild bees. Support your local pollinators, and enjoy the beauty, too!

Butterfly Banquet
Seed Collection

Feed endangered Monarchs, as well as Swallowtails, Frittilaries, and other wonderful "flutterby's".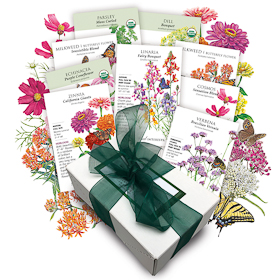 ---
---
Japanese Weeding Sickle
My favorite weeding tool. Has a razor-sharp Japanese blade that slices roots off cleanly, just below ground.
---
---
Neither too girly nor too macho, this tote is the most practical and durable I have found anywhere.

---
My #1
Most-Used Tool
I use this for... well, EVERYTHING.
(Weeding, leveling, transplanting, digging, prying, eating lunch...)

Best Gifts for Gardeners $100-300

---
Worm Farm Composter
This odor free, small-batch kitchen worm bin is really fun for kids (as well as your inner child!)

---
Dual-Batch Compost Tumbler
This smaller size compost tumbler lets you finish one batch,  while adding new scraps to the other side.

---
The King of Spades
Okay, so I don't own this... but I wish I did! (The first spade I've found to outcompete my 40-year old Clarington)

Best Gifts for Gardeners $300-$600

---

3-Tier Adjustable Sunlite Garden

Adjustable heights lets you keep lights right above seedlings to prevent legginess.


---

2-Tier Adjustable Sunlite Garden

More compact version of the 3-tier, but still with adjustable heights.


---

Farmstead Cedar Raised Beds

The best pre-made raised beds on the market. Stack for desired height. Cedar lasts for decades.

---
---
Help share the skills and spread the joy
of organic, nutrient-dense vegetable gardening, and please...
~  Like us on Facebook  ~
Thank you...  and have fun in your garden!

Affiliate Disclaimer
This website contains affiliate links to a few quality products I can genuinely recommend. I am here to serve you, not to sell you, and I do not write reviews for income or recommend anything I would not use myself. If you make a purchase using an affiliate link here, I may earn a commission but this will not  affect your price. My participation in these programs allows me to earn money that helps support this site. If you have comments, questions or concerns about the affiliate or advertising programs, please Contact Me.Contact Us Page
---
---