Fish Emulsion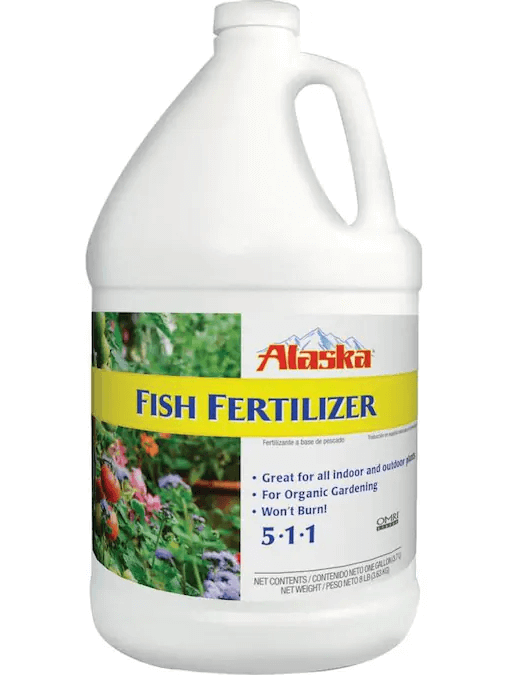 My first experience with fish emulsion was, well, not so great...
When I got my first apartment as a teenager I decided to decorate with houseplants. I decided to go organic and bought a gallon jug of fish emulsion. I opened the jug (Phew! Is it supposed to smell like that?) got my little quart spray bottle out, and mixed it up according to directions.
I poured some of the dilute mix directly on the soil of my numerous houseplants, and well as sprayed the leaves to assure a good "foliar feed". I figured the smell would dissipate soon enough.
It didn't.
My cat, Banjo, thought he had died and gone to heaven. He just knew there was fish to be eaten somewhere down in those potted houseplants, and when I left for awhile he proceeded to dig them all up, knocking them out of their pots and making a horrible mess.
So, moral of the story... don't use fish emulsion on your indoor houseplants.
Fish Emulsion's Many Redeeming Features

Fish emulsion is, however, one of the premier organic fertilizers, having an N-P-K that ranges between 2-4-0 and 5-1-1. In vegetable gardening it is my product of choice when older leaves start turning yellow, indicating nitrogen deficiency.
N-P-K is an analysis of the fertilizer's relative weights of available Nitrogen (N), Phosphorus (P), and Potassium (K).

Fish fertilizer is used primarily for its nitrogen content, but it is also helpful as a mineral supplement, since it contains appreciable amounts of Calcium (Ca), Magnesium (Mg), Sulfur (S), Chlorine (Cl) and Sodium (Na).
It also helps the microflora of the soil, feeding beneficial bacteria and contributing to improved soil structure.
And a little-known "side effect" that is really very useful to know is that when used as a foliar spray, it deters flea beetles. I read about this in a little info box in the Botanical Interests seed catalog, and it really works! (I think it just smells so bad that the poor flea beetles lose their appetite.)
Different manufacturers make their fish fertilizers differently. Some fish emulsion is made from ground-up by-products like heads, tails, innards, and blood, some is made from so-called "trash fish" (meaning those caught in nets that are not made into human food.) Some is cooked, some is raw, and some even claims not to smell (Neptune's Harvest...). Some manufacturers add liquid seaweed to increase micronutrient and mineral content.
Here is a comparative analysis of some of the popular brands:
| | | | |
| --- | --- | --- | --- |
| Product | Nitrogen (N) | Phosphorus (P) | Potassium (K) |
| Alaska Fish Fertilizer | 5 | 1 | 1 |
| Neptune's Harvest | 2 | 4 | 0 |
| Bonide | 2 | 4 | 0 |
| Maxicrop Liquid Fish | 5 | 1 | 1 |
| Fertilome | 5 | 1 | 1 |
---
---
Help share the skills and spread the joy
of organic, nutrient-dense vegetable gardening, and please...
~  Like us on Facebook  ~
Thank you...  and have fun in your garden!

Affiliate Disclaimer
This website contains affiliate links to a few quality products I can genuinely recommend. I am here to serve you, not to sell you, and I do not write reviews for income or recommend anything I would not use myself. If you make a purchase using an affiliate link here, I may earn a commission but this will not  affect your price. My participation in these programs allows me to earn money that helps support this site. If you have comments, questions or concerns about the affiliate or advertising programs, please Contact Me.Contact Us Page
---
---