Growing Asparagus
A Perennial Favorite
Growing asparagus in the home garden has been a "perennial favorite" since ancient Greek and Roman times, and humans have no doubt been eating the wild variety throughout history. The bad pun refers to the fact that unlike most other garden vegetables, asparagus is a perennial plant that comes back every year from the same rootstock.
Asparagus comes in green, yellow and purple varieties, any of which can be "blanched" white by burying the spears with a thick mulch of compost or shredded fall leaves as they begin to emerge. White ones are milder in flavor (if you like 'em that way!...)
I don't generally make specific varietal recommendations because what you grow depends on where you live and your personal tastes. Check the seed catalogs or your local nursery for live first-year crowns.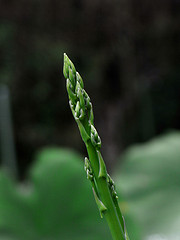 Asparagus Spear
(Photo credit: Chidorian, CC)

Asparagus is a "dioecious" plant, meaning that each plant will be either male or female. Female plants expend a lot of energy producing seeds, and so do not have as much energy left over in fall to produce spears the following spring.
There are now hybrid, all-male varieties available in the seed catalogs and from better nurseries. For maximum yield, choose these all-male varieties, or cull out the female plants (which make red berries in late summer) from the bed when you can determine which ones they are. 
Soil and Climate Conditions for Growing Asparagus
Asparagus is picky about pH - it doesn't like acidic soils and won't grow below pH of 6.0. Most home gardeners aren't going to tweak the pH of their soil to suit one particular crop, but because asparagus is a perennial and you won't be using that piece of ground for anything else, you may want to amend the pH of the soil you will be using for growing asparagus if it is outside of a 6.5 to 7.5 pH range.

When planting asparagus in a new bed (or row) it is very important to make sure that all perennial weeds are thoroughly removed before laying down the crowns. Once the growing asparagus has become well-established, weeding becomes almost impossible. You won't be able to just dig out any weeds on an annual basis, as you might usually do with an annual bed. And if you do weed them out, you will damage the asparagus roots and set the plants back a year or more.
To keep this page from being a book, I have broken the rest of the page down into separate topics. Click the links below to continue reading how to plant, harvest and protect asparagus.
Planting Asparagus
As a perennial, asparagus requires some special care when planting. Read more here.


Harvesting Asparagus
When and how much asparagus to harvest to provide for yourself as well as protect your plants.


Asparagus Beetles
The #1 pest of asparagus comes in 2 different species, but the control measures are the same.


---
---
Help share the skills and spread the joy
of organic, nutrient-dense vegetable gardening, and please...
~  Like us on Facebook  ~
Thank you...  and have fun in your garden!

Affiliate Disclaimer
This website contains affiliate links to a few quality products I can genuinely recommend. I am here to serve you, not to sell you, and I do not write reviews for income or recommend anything I would not use myself. If you make a purchase using an affiliate link here, I may earn a commission but this will not  affect your price. My participation in these programs allows me to earn money that helps support this site. If you have comments, questions or concerns about the affiliate or advertising programs, please Contact Me.Contact Us Page
---
---