Growing Cucumbers
Growing cucumbers has only recently become a part of my repertoire. (True confession: I don't really like them.) But Tito loves them, so now I grow about 6 or 8 plants every year to supply him with all he needs for his favorite gazpacho, to eat in salads, and for a special salsa he makes, which I have actually grown to like too. They're also a very popular share-with-neighbors crop.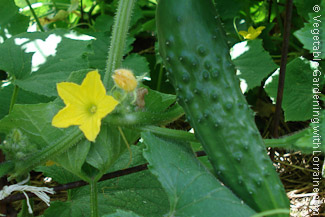 Cucumber Flower and Fruit
I love "going hunting" in the garden every morning for the day's latest cucumbers, tomatoes and zucchinis. When plants mature, the fruit they produce gets hidden among the foliage, and every morning when I go out with my basket, it feels like the annual Easter egg hunt did when I was a kid. It's a daily expression of the innate, infinitely creative abundance of the Universe. Amen.
General Conditions for Growing Cucumbers
"Cool as a cucumber" does not describe how cucumbers like weather – they like it hot, hot, hot. Don't think of growing cucumbers outside until the soil has gotten good and warm, 70 degrees F. at least.
Cucumbers are relatively fast growers once they get going, so be patient and wait until a good 2 weeks after last frost to direct seed them in the garden or transplant them out. To get the earliest harvest, start seeds indoors in flats under bright lights in a warm place, about 2 weeks before last frost, and plant them out when they're 4 weeks old.
A cucumber plant will produce a total of about a dozen cucumbers in its lifetime, if you harvest them regularly and don't let them hang on the vine. Harvest them before they reach full size - whatever size that is for the variety you're growing.
For an extended harvest, plant a few more cucumbers about a month after you've planted the first lot. Experiment with different varieties, and grow some early-bearing ones as well as some late-bearing ones.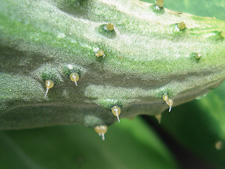 Cucumber Self-Defense
And if you're new to growing cucumbers yourself and have only ever bought them from the store, you might be surprised by the little spines that grow on them. Rub them off with a gardening glove or by scraping them on the grass.
Try growing more than one variety and take advantage of the huge range of shapes, flavors and types that are available. There are long ones, pickling ones, round ones, lemon ones, stripey ones, yellow ones. I don't generally make varietal recommendations here, because everyone's climate and personal tastes are different.
Check with a local nursery for what they recommend in your climate, or carefully peruse some seed catalogs to find ones that appeal to you. While heirloom seeds are wonderful, I usually grow some disease resistant hybrids as well to protect myself from loss.
I plant about 4 cucumber plants per trellis (described below), which gives about a foot of growing space around each plant. They pretty much load the trellis, and it's fun to go searching for them as they ripen. They can almost double in size in a day, so don't forget to check for fast growing cucumbers daily!
There are many creative ways to trellis cucumbers besides the way I do it. I've seen them growing up wood lattice, doing double-duty by creating a shade house for lettuces growing underneath, and growing up beautiful wooden trellises or even old bedsteads. Vertical vegetable gardening is an artform in itself, so think outside the box and get creative!
Soil and Water Conditions for Growing Cucumbers
Cucumbers prefer slightly acid soil in the pH range of 6.0 to 6.8, but our soil is a bit alkaline and our cucumbers do fine. We incorporate a ton of homemade compost into our vegetable garden soil every year, which acts somewhat like a pH buffer. Cucumbers (like zucchini), love rich, fertile soil, so do give them the compost they need, and also make sure they get enough water. (A cucumber is mostly water, which is one reason they are so refreshing!)
You can use a good organic fertilizer, too, if it looks like it needs it. How do you know if it needs it? If growth is stunted or leaves are yellowing or turning purplish, have a soil test done. A soil test is always good if you are first starting out to see if your soil is deficient in any particular nutrient.
Don't just add fertilizer without knowing what's there in the soil already. Too much fertilizer can damage your plants and the soil's ecological balance. However, it's always safe to add plenty of compost.
Water your growing cucumbers from below if possible to keep the leaves dry, as they are highly susceptible to powdery mildew and other fungal diseases. A good mulch of straw, alfalfa hay, or chopped leaves makes them happy and helps confuse cucumber beetles. I also plant borage around my cucumber trellis, because the bees and other beneficial insects which the borage attracts seem to deter pests. (And I just adore the wild, beautiful, happy presence of borage in the garden).
Trellising
There are any number of creative trellis ideas out there for growing cucumbers, and whether you grow a bush or vining variety, a trellis will keep the cucumbers from laying on the ground and protect them from slugs and rot.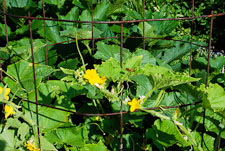 Concrete Reinforcing Wire Cucumber Cage
Many years ago I bought a 50-foot roll of 6" mesh, heavy concrete reinforcing wire from a local lumberyard, and over the years I have used it to make tomato cages, cucumber trellises, and tunnel tents for extending the growing season. You can now buy it in smaller sheets at Home Depot and other big box home improvement centers, and it makes the best trellises!
It's stiff and you'll need a pair of bolt cutters to cut it to size. My cucumber trellises are cylinders that are 12 squares around by 8 squares high. (Each square of the mesh is 6" by 6".)
Cut a piece that is actually 13 squares by 9 squares, bend it into the cylinder, and then cut off the bottom "ring" so that you have spiky ends sticking out that you shove into the ground to anchor the trellis.
Also cut off one of the side "verticals" and use the spikey ends left sticking out to bend over and attach to the other side, closing the cylinder. (Also works for tomato cages – I have a bunch in different sizes for different size cultivars.)
Gardener's Supply and other catalogs also have a wonderful variety of trellises available to buy, if you don't want to mess with making your own.
Cucumber Diseases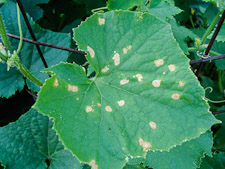 Ulocladium Leaf Spot
Cucumbers are susceptible to:
Powdery mildew
Angular leaf spot
Ulocladium leaf spot (mine have this in 2012…)
Anthracnose
Bacterial wilt
Alternaria
Septorium
Fusarium
Cucumber beetles
other viruses diseases
If your cucumbers are getting fuzzy gray patches on them they probably have powdery mildew, which is very common on cucumbers and other curcurbit family plants like squash and melons. If your cucumbers have other disease symptoms, check out the common plant diseases article. When one of my plants gets sick, I take a close-up photograph with my little point-and-shoot digital camera on "macro" setting, and email it to my local state university cooperative extension service, and they email me back with what they think it is and how to treat it.
---
---
Help share the skills and spread the joy
of organic, nutrient-dense vegetable gardening, and please...
~  Like us on Facebook  ~
Thank you...  and have fun in your garden!

Affiliate Disclaimer
This website contains affiliate links to a few quality products I can genuinely recommend. I am here to serve you, not to sell you, and I do not write reviews for income or recommend anything I would not use myself. If you make a purchase using an affiliate link here, I may earn a commission but this will not  affect your price. My participation in these programs allows me to earn money that helps support this site. If you have comments, questions or concerns about the affiliate or advertising programs, please Contact Me.Contact Us Page
---
---