Growing Onions
Photo: © Quinn Dombrowski, Creative Commons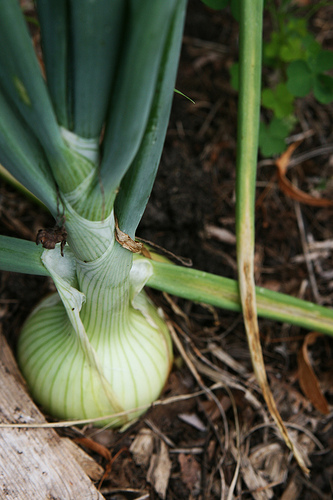 Growing Onion Building Its Bulb
In my garden, growing onions is not proportional to how many onions I eat. If it were, my garden would be 90% onions! My mom used to say, "Bad cooks don't use onions. Good cooks use onions. Great cooks start with onions, and then add everything else." (Well, okay… not brownies.) Tito and I probably go through 400 pounds of onions a year.
Growing onions successfully is pretty easy, but does require a bit of specific knowledge, especially relating to choosing a variety that matches your latitude. To keep this from becoming a book, I've broken everything about growing onions down into the following pages to help you go straight to what you're looking for:

How to Grow Onions
Onions need soil that is loose and evenly moist so that they can easily push it aside when they start to form bulbs. This is the main how-to article that describes the best soil conditions, how day length affects bulb growth, fertilizing correctly, and how proper watering can prevent disease.
Help share the skills and spread the joy
of organic, nutrient-dense vegetable gardening, and please...
~  Like us on Facebook  ~
Thank you...  and have fun in your garden!

Affiliate Disclaimer
This website contains affiliate links to a few quality products I can genuinely recommend. I am here to serve you, not to sell you, and I do not write reviews for income or recommend anything I would not use myself. If you make a purchase using an affiliate link here, I may earn a commission but this will not  affect your price. My participation in these programs allows me to earn money that helps support this site. If you have comments, questions or concerns about the affiliate or advertising programs, please Contact Me.Contact Us Page
---
---