How to Build a Homemade Compost Bin

The Best Bin EVER!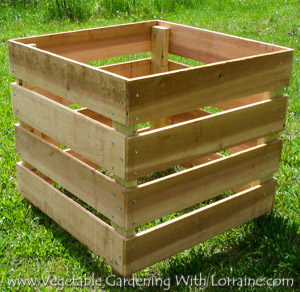 Best Homemade Compost Bin EVER!
Stacking Tiers Make Turning Easy
This homemade compost bin is by far and away the most practical, easy to build, easy to turn, easy to move, easy to work with, fastest-breakdown compost bin I've ever used. I love this design so much that I have built many of them in different places over the years: for Naropa University, for a homestead in Montana, for a community garden in Boulder. Some things you just can't buy. This bin truly is the best compost bin ever, and I've tried them all.
How My Homemade Compost Bin Works

When you stack one tier on top of the next, they nestle onto one another and kind of "lock" together, while leaving a nice 1 1/2" gap between tiers around the sides for good aeration.
But the real brilliance of this design is that when you go to turn the compost, you simply lift off the top tier and set it on the ground next to the bin, and then start forking the compost over into it. As the pile in the original bin gets lower, you move over the next tier, and fork some more compost over, and then move the next tier, etc. As the pile on original side gets lower and lower, the new one gets higher and higher, until the whole pile is moved over, fluffed and inverted, right next to where you started.
The other thing that makes it easy is that you're not having to reach over the edge and down into the bin to reach the compost. For a short person like me who couldn't reach if they wanted to, or a tall person who doesn't like having to reach way over, this compost bin saves your back.

It's this ease of turning the contents that makes this homemade compost bin the hands-down winner, because the more frequently you turn, aerate, and check moisture levels in your "cooking" compost, the faster it will turn into the crumbly, earthy, rich, finished product that works wonders on your soil.
Click here or on the "Free Plans" box above to be taken to the plans and the construction instructions.
(Unless you want to take it apart, in which case you would have to find some deconstruction instructions...)
Have fun!

---
---
Help share the skills and spread the joy
of organic, nutrient-dense vegetable gardening, and please...
~  Like us on Facebook  ~
Thank you...  and have fun in your garden!

Affiliate Disclaimer
This website contains affiliate links to a few quality products I can genuinely recommend. I am here to serve you, not to sell you, and I do not write reviews for income or recommend anything I would not use myself. If you make a purchase using an affiliate link here, I may earn a commission but this will not  affect your price. My participation in these programs allows me to earn money that helps support this site. If you have comments, questions or concerns about the affiliate or advertising programs, please Contact Me.Contact Us Page
---
---