Organic Gardening for Beginners
Organic Gardening for Beginners
Organic gardening for beginners is just as easy as "chemical" gardening for beginners, only it's a lot more fun, and much better for your health and for the earth!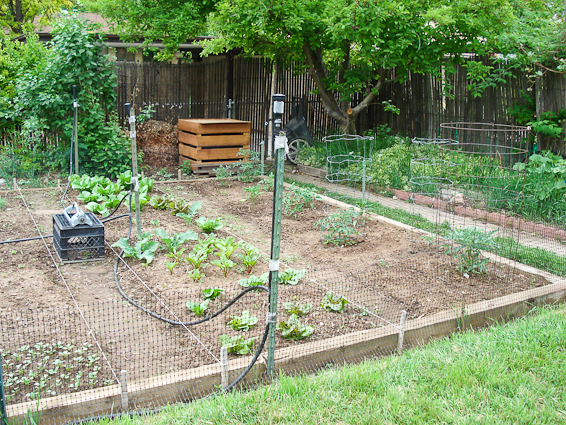 One of My Organic Gardens in Early Spring
If you are an experienced gardener and want to transition to organic methods, skip this article and jump straight to the articles on organic fertilizer, organic pest control, composting, and beneficial insects. 

Why Organic Gardening
Organically grown produce is more nutritious than chemically-grown, provided you practice excellent soil care, use lots of homemade compost and appropriate organic fertilizers, and enter into a close relationship with your garden.
Organically grown backyard produce is as "local" as you can get, and helps the larger ecosystem. The benefits of organic gardening are many, so read that article if you want more info or references.

"Organic" means vegetables grown without the use of chemical fertilizers, pesticides or herbicides and without using GMO seeds.

A Different Stance
In Asian philosophies, one strives for a balance between "yin" and "yang", yin being a more receptive, open, observing, nurturing stance, with yang being a more directive, action-oriented, and intention-driven stance. 
Growing food organically is more yin than most Westerners are used to. Right at first the process is yang, when you're turning a weed patch into a verdant garden.
But once you have created an inviting habitat for the soil microorganisms, the plants, the birds, butterflies, and yes, caterpillars and other plant-eating bugs, the organic gardener's stance becomes more "yin", working with nature instead of trying to control it.
The Most Relevant Articles for Beginning Organic Gardeners
This entire site is devoted to regenerative, nutrient-dense organic vegetable gardening, but these 5 are most relevant for organic gardening for beginners and will get you started on the right foot, without overwhelm.
Starting a Vegetable Garden
This article leads you through all the basics including planning, soil prep, planting, fertilizing, composting and pest control. If you were to read only this article and then went out and started digging, you'd be okay.


Vegetable Gardening Tips
Will help you avoid mistakes. If you read suggestions in more than one place, it is because they are very important (like compost!).


Vegetable Gardening Layout
will guide you with where to place and how to design your garden, and also help you choose which technique will work best for your needs. There may be some new options you may not have considered. (And it's best to explore options before you have a shovel or rototiller in your hands.)


Gardening Tools
The right tools are very important for making vegetable gardening a joy instead of a chore. This article describes which tools are essential and work well, and which are better left on the store shelf.


How to Make Compost
Making compost is an essential part of organic vegetable gardening, and is actually very fun, too.


Growing Vegetables A-Z
This is a mini site map that has specific growing information for individual vegetable crops.
Now It's Time to Get Your Hands Dirty!
Okay, get out there and get your hands dirty! Bookmark this site, and come back often as questions arise. Look through the Site Map for information on specific crops, techniques, and solutions, and if you don't find your answer, shoot me an email by using the contact form at the bottom. I promise to get back to you, and if others have the same question, it may become a new article.
And lastly, don't forget to have fun! Enjoy the process. As soon as you don't, take a break. If you run into challenges and need answers, snoop around this site for solutions. Blessings on your new adventure.
---
---
Help share the skills and spread the joy
of organic, nutrient-dense vegetable gardening, and please...
~  Like us on Facebook  ~
Thank you...  and have fun in your garden!

Affiliate Disclaimer
This website contains affiliate links to a few quality products I can genuinely recommend. I am here to serve you, not to sell you, and I do not write reviews for income or recommend anything I would not use myself. If you make a purchase using an affiliate link here, I may earn a commission but this will not  affect your price. My participation in these programs allows me to earn money that helps support this site. If you have comments, questions or concerns about the affiliate or advertising programs, please Contact Me.Contact Us Page
---
---